The Natural Way To Purify Air
Imagine an aroma of clean and fresh. That is the revitalizing scent of Eucalyptus releasing its lively and woodsy undertones. Each of our candles is naturally sourced and beautifully blended with pure essential oils and antibacterial properties to give your space the utmost comfort.
Relieve Airborne
Bacteria
100% Pure
Essential Oil
3 Healing Benefits
Breathe in the purified air of Eucalyptus for a cleaner and healthier you.
Improves Air Quality
Fights 22 types of harmful bacteria
Did you know that the air we breathe in has more than 1,800 kinds of bacteria?
One of the best features of Eucalyptus is that it contains antibacterial and antiviral properties, proven to be able to effectively kill 22 types of harmful bacteria, like E. coli and Staphylococcus aureus. Known as the Queen Of Clean, Eucalyptus remains one of the best natural air-purifying scents to maintain the environment hygiene.
Eucalyptus oils have antimicrobial activity against viruses, bacteria, yeasts, and filamentous fungi. Many studies have found that it was able to reduce viral multiplication by 96%.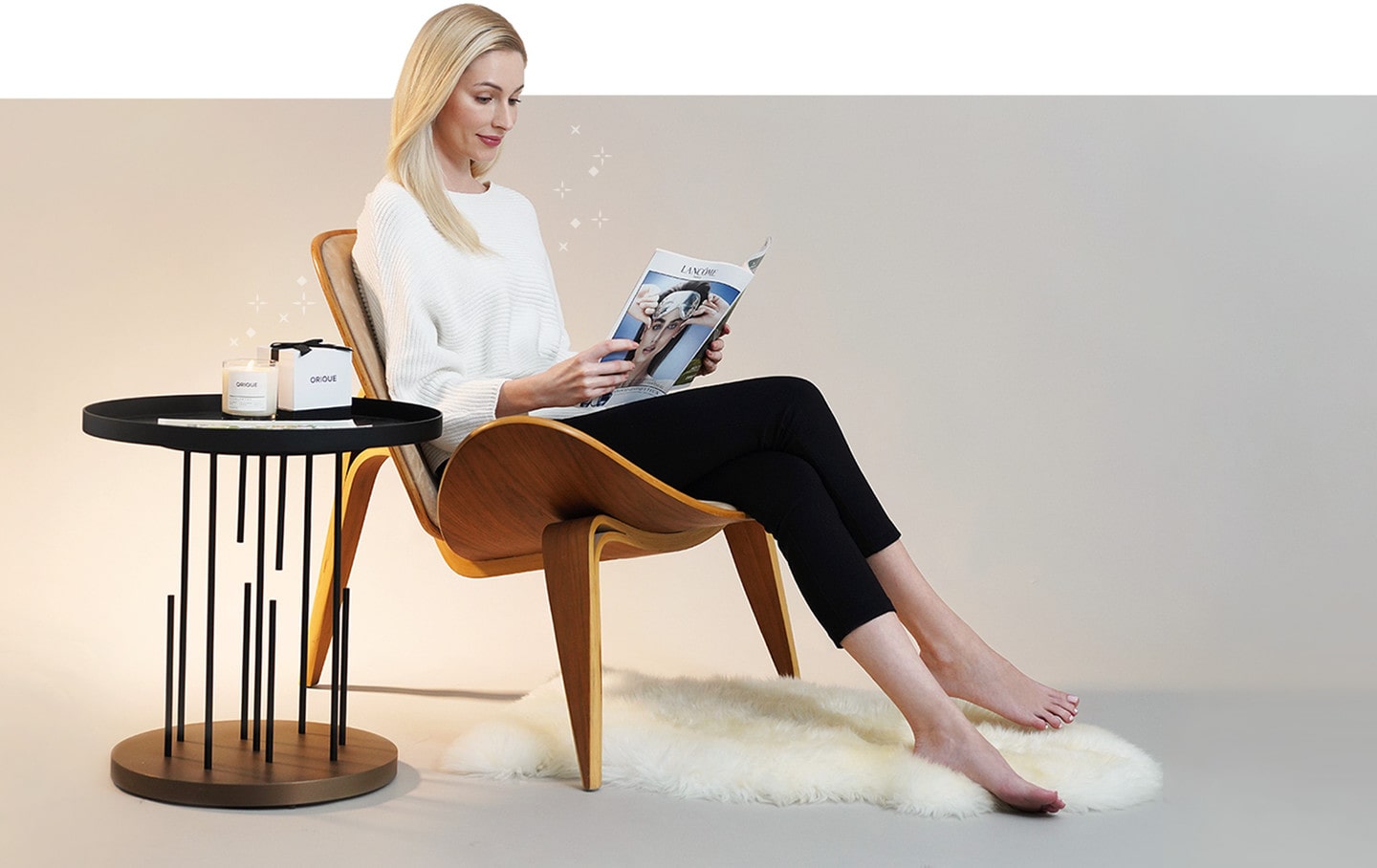 Congestion Reliever
Alleviates cold and flu symptoms
With an uplifting scent, Eucalyptus helps decongest the nose and provides relief from colds, sinusitis, headaches, and allergies. Since ancient times, it has an excellent reputation for clearing the respiratory tract and works effectively to ease congestion. Whether it is at work or at home, you can now breathe in the comfort and healing aroma of the natural Eucalyptus.
Eucalyptol, the natural compound found in Eucalyptus is widely used in many cough suppressants as it can reduce inflammation and mucus buildup. It may help to improve asthma symptoms as well.
Revives Mental Energy
Stimulates focus and relieves stress
The invigorating scent of Eucalyptus can promote a sense of vitality and focus. Rich in Eucalyptol, it is found to possess anti-anxiety properties that can fight mental fatigue and relieve stress at the same time. Just a scent of this can do wonders for your mind, body and soul. Best to be indulged during meditation focus or flow yoga.
Researchers have found that Eucalyptol helps decrease the activity of our sympathetic nervous system (stress response system) and increases the activity of the parasympathetic nervous system, which promotes relaxation.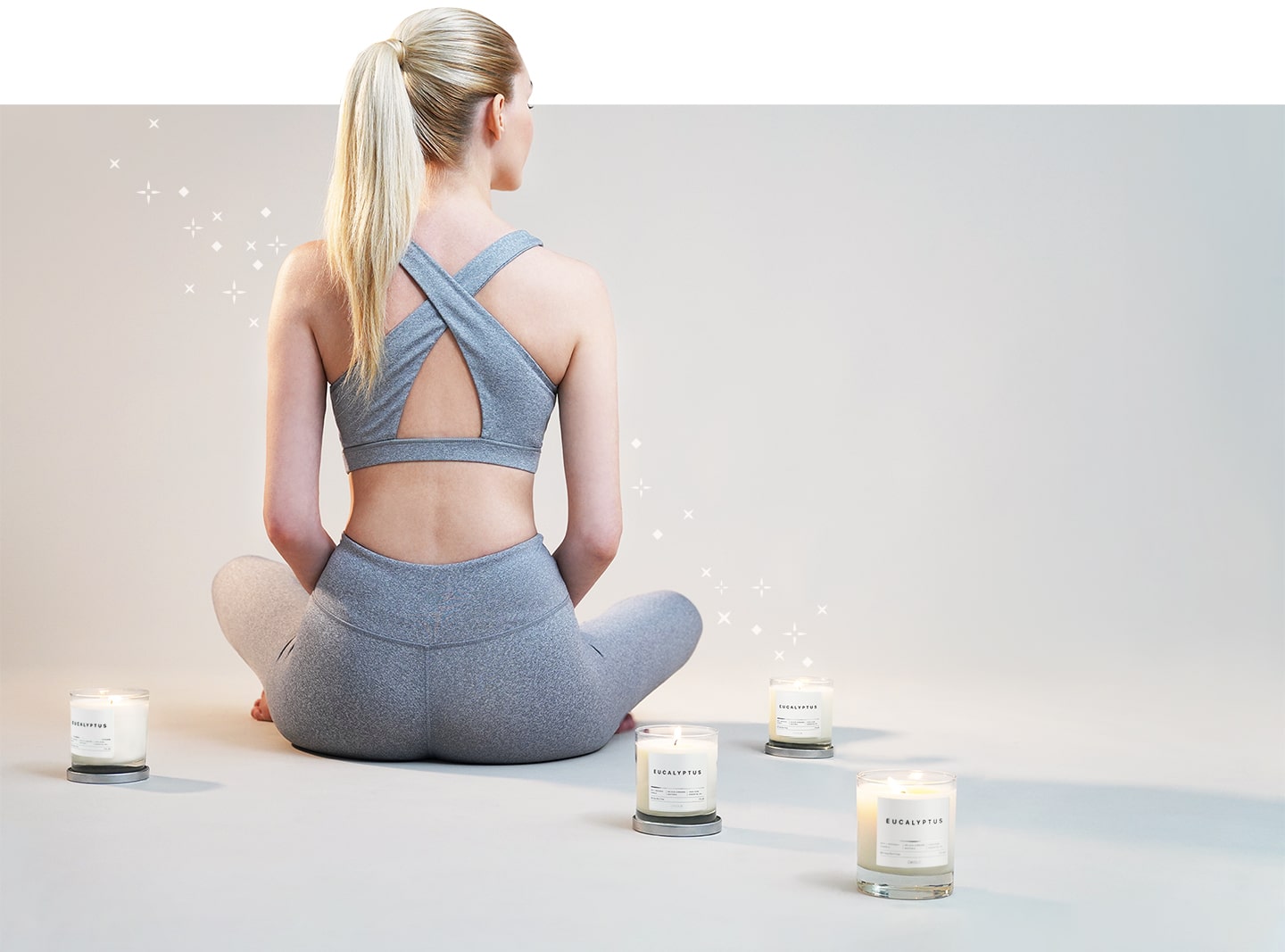 Scents To Keep
Your
Family Breathing
In Clean Air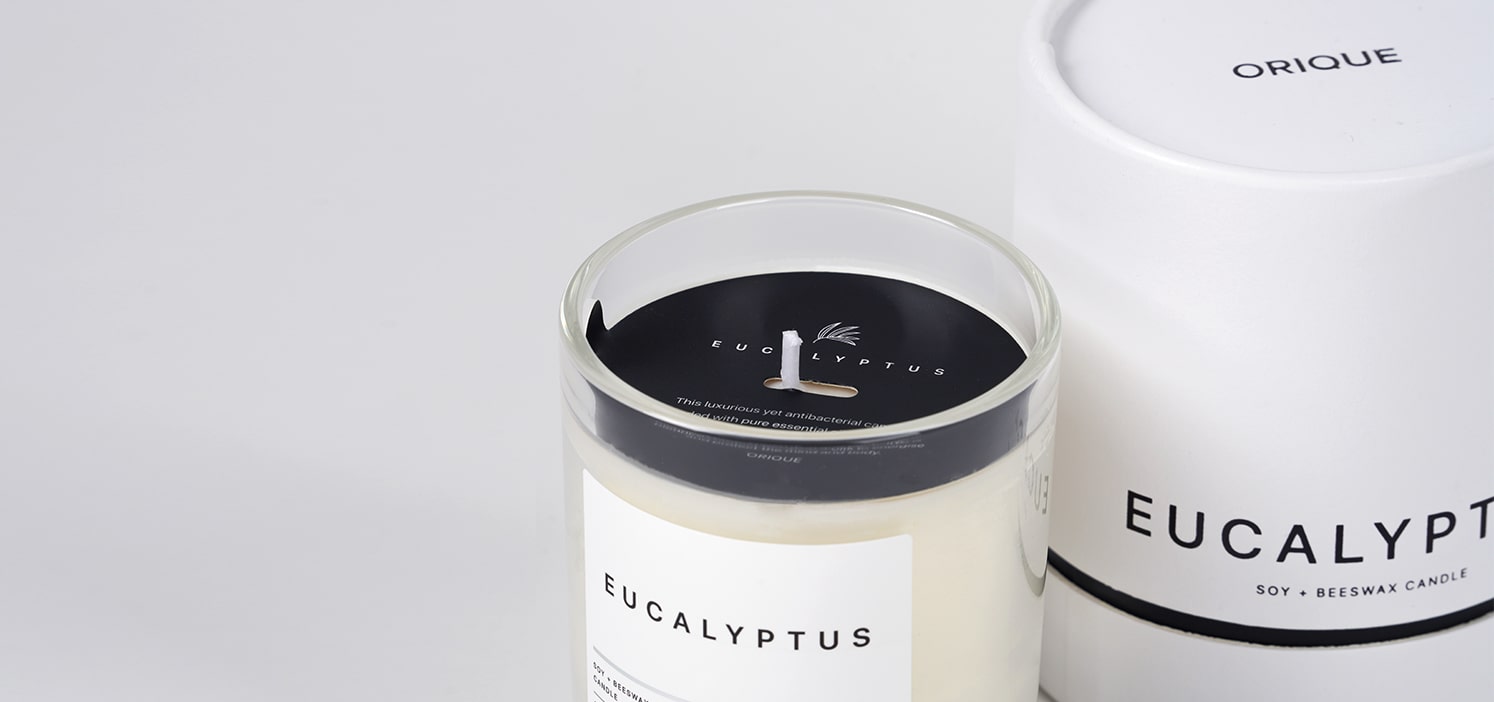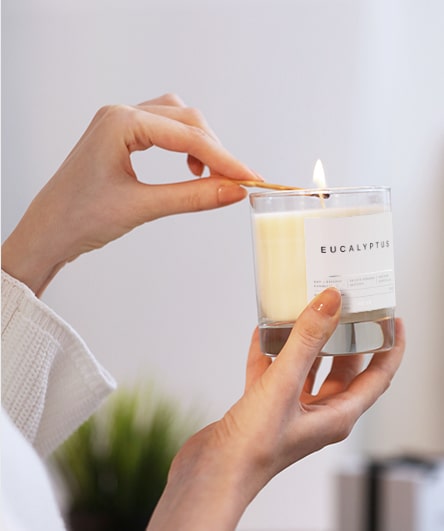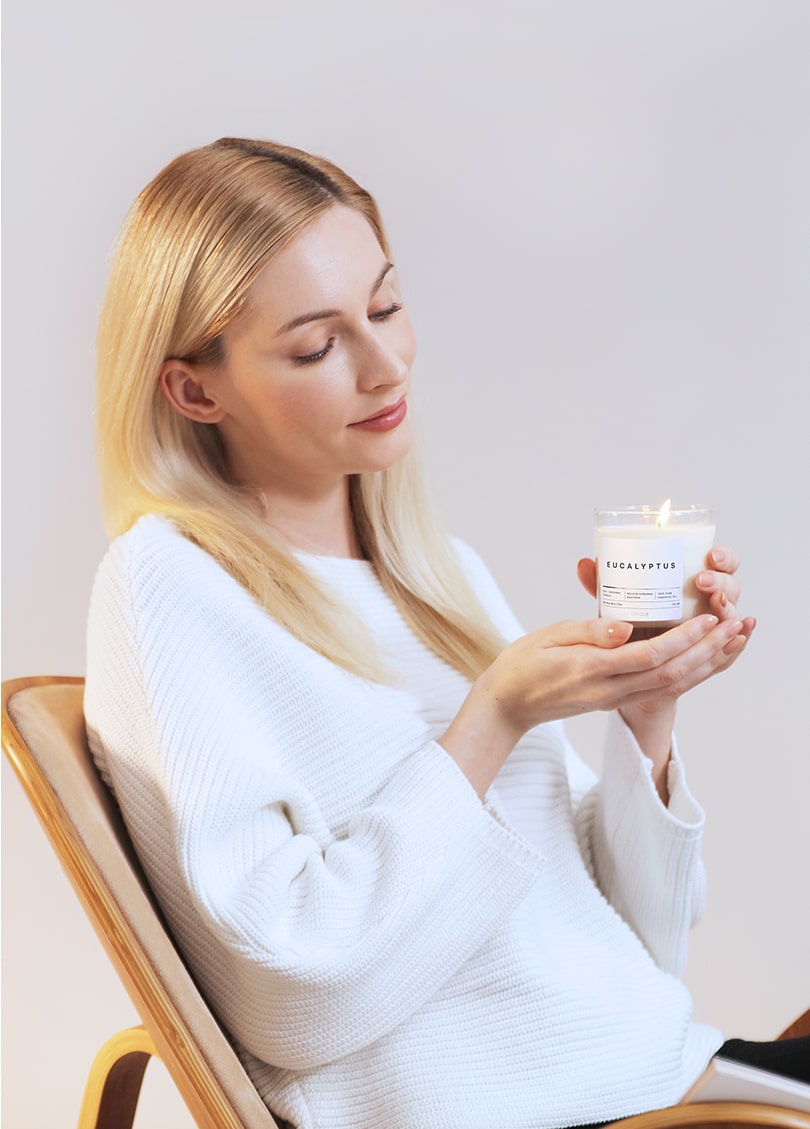 Made with premium ingredients, our candles work as natural air purifiers that transform your home's air to clean and fresh while keeping out air pollutants. After all, breathing in purified air should be a priority for any home.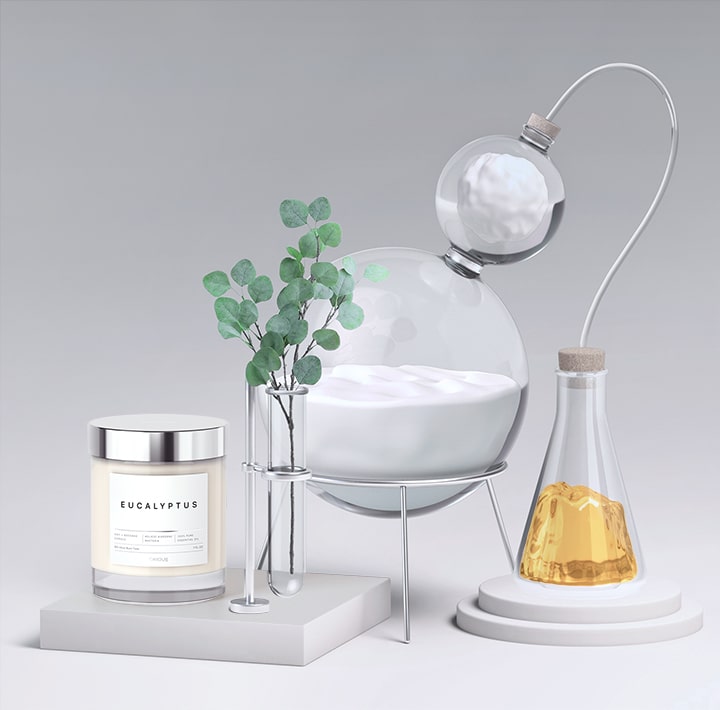 Air-Purifying Effect
Each candle is made of 100% natural soy and beeswax, which burns cleaner with almost no soot. Biodegradable and toxin-free, pure beeswax also acts as a natural ionizer that cleans the air by releasing negative ions into the air. These negative ions bind with toxins to help remove impurities from the air.
Longer-Lasting Burn
Soy and beeswax candles burn 50% longer than regular candles with the melting point of 50°C-60°C. Due to its low melting роіnt, it has a сооlеr burning temperature that creates a longer-lasting burn.
Greater Scent
Soy candles work well for holding onto the scent from essential oils, which are often used to scent candles. As they burn slower, the pure aroma is gradually released into the air as opposed to an immediate wave of strong scent. This brings forth a more pleasant environment, filled with its aromatherapy benefits.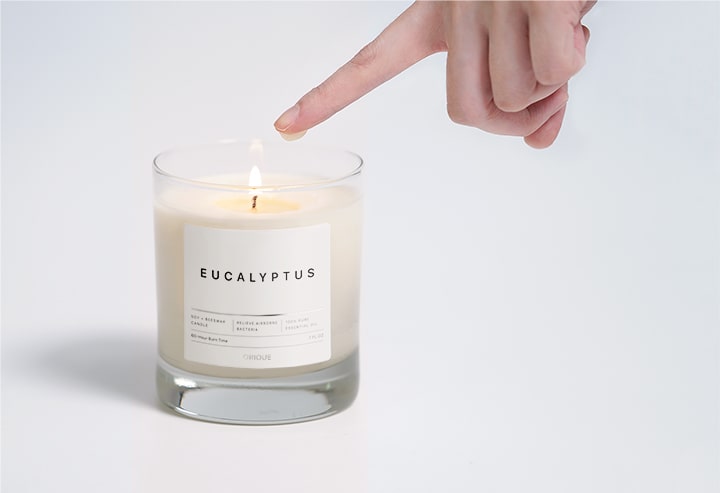 A Soothing Touch To
Moisturize Skin
One of our soy beeswax specialty is that it doubles as a nourishing moisturizer or a massage lotion that hydrates and softens the skin. It can even help to alleviate conditions like acne, dry skin, cracked heels, eczema, and stretch marks. Rest assured that it is suitable for all skin types, even for the most sensitive ones.
The all-natural ingredients in our wax are also vegan and skin-safe which can be used all over the body. Feel the soft, creamy touch and indulge in its skin-healing benefits.
How To Indulge
To extend your candle's sensorial experience, follow these care guidelines:

Buy Eucalyptus Candle
Spend More, Save More.
Savings Up to 13%!
Choose Your Eucalyptus Candle Package.
Or Choose Your Beauty Bundles.
From MYR 150.00
Please choose your package or bundle