Buy AG-FACTOR™
A daily dose of natural skin savior, targeting the root cause of aging and hyperpigmentation from within for a brighter and youthful appearance.
Brighten Skin Tone
Promotes the production of Pheomelanin (lighter pigment) with potent antioxidant properties for a brighter, glowy, and even skin tone.
Erase Dark Spots & Pigmentations
Lightens skin discoloration and protects the skin cells from free radical damage and photodamage.
Reduce Fine Lines & Wrinkles
Activates the body's own Collagen production to restore dermal tissue and eliminate signs of aging.
Rebuild Firmness & Elasticity
Promotes the regeneration of skin cells with anti-glycation properties to prevent skin sagging.
Promote Healthier Hair & Nails
Nourishes hair and nails from within with Cysteine Peptide, boosting the synthesis of Beta-Keratin for voluminous hair and stronger nails.
Detox Liver For Healthier Complexion
Increases the production of Glutathione (master detoxifier) to reduce inflammation that causes premature aging, skin flares, and dull skin.
A closer look at AG-FACTOR™
End of content
No more pages to load
Choose Authentic
AG-FACTOR™
Beware of counterfeits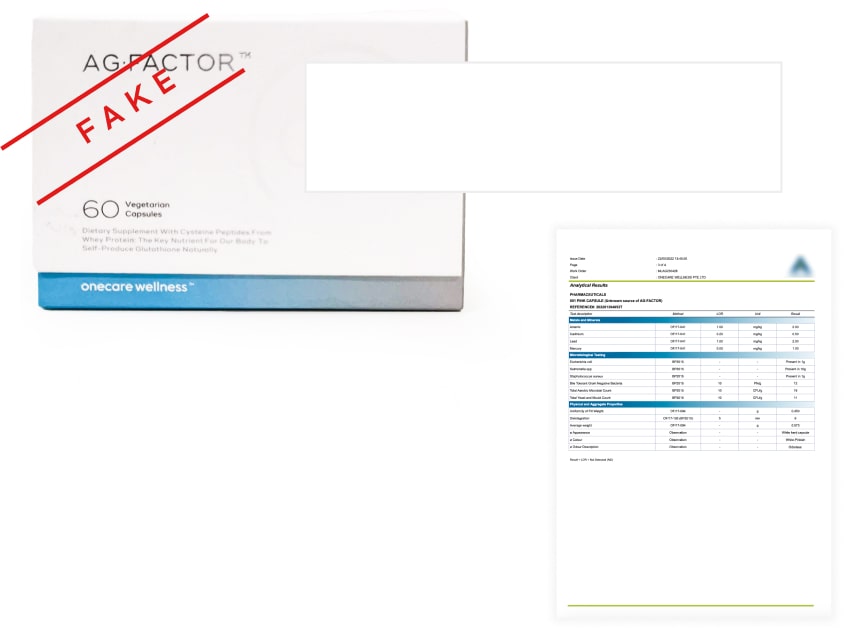 Clinical lab tests done have shown high
levels of dangerous substances that are
extremely harmful for the human body's
consumption.
Consuming counterfeit AG-FACTOR™
from any other sellers poses long-term
harmful risks including: adverse health
conditions, fatal side effects, and life-
threatening issues.
Disclaimer:
*We highly advise customers to purchase from
Onecare official stores to ensure genuine authenticity.
*Onecare does not take responsibility for any side
effects or health consequences caused by counterfeit
products of Onecare.